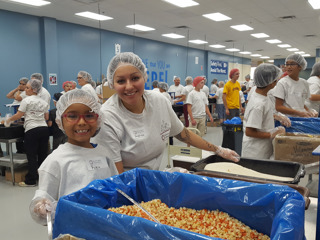 Sonora Quest Laboratories / Laboratory Sciences of Arizona proudly supports a number of organizations that share our values and exhibit a commitment to ongoing research, education, and community assistance. We are committed to investing in the communities that we serve and we utilize corporate giving, in-kind laboratory services, strategic partnerships, and employee volunteerism to collectively do so.
We are proud to invest in our communities by:
Donating 1% of our operating income to key Arizona charities


Providing in-kind, no charge laboratory services to charities which serve the most vulnerable communities and underserved populations


Volunteering more than 2,000 hours each year at a number of local charities
Learn more about our Community Involvement.
Requests for Corporate Giving


We accept and review sponsorship requests on a calendar year basis and invite select organizations to our annual Community Partnership Meeting in the summer of each year. To be considered for an opportunity to give a brief presentation at our next Community Partnership Meeting, please review the requirements and criteria listed below and submit the following no later than June 1 of the current year:
A formal request on your organizational letterhead to include:

A brief description of your mission and goals along with confirmation that your efforts directly benefit communities in Arizona

A brief description of the program or event to be funded and its expected outcomes

Supporting flyers or documents regarding the event or program

Confirmation that your organization spends less than 20% of contributions on administrative fees

The organization's annual revenue, growth rate year over year, and contributing sponsor attrition rate over the two most recent operating years

A contact name, organization name, address, phone number, email address, and web site address

Tax determination letter [501(c)(3)] and W-9


A current Board of Directors list
Please note that Sonora Quest Laboratories / Laboratory Sciences of Arizona does not provide support for the following:
Requests benefiting only one individual person


Organizations that discriminate against individuals based on age, race, gender, religion, or sexual preference


Political causes, candidates, organizations or campaigns


Contests or pageants


Sports teams


Third-party giving, including funds that are reallocated to fiscally sponsored organizations (pass through)
Submit requests to CorporateGiving@SonoraQuest.com or via mail to 424 S. 56th Street, Ste. 100, Phoenix, AZ 85034. Telephone solicitations will not be accepted. Please note that meeting the above criteria does not guarantee an invitation to present at our Community Partnership Meeting.