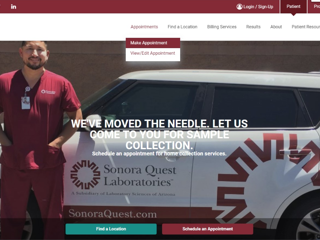 1. Visit SonoraQuest.com and select Make
Appointment. Select the appointment type needed
then click Next.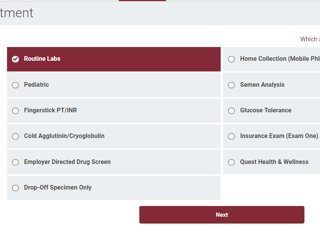 2. Select Appointment Type – If you are not sure about what appointment, you should choose. You can read the different types here. Once selected click NEXT.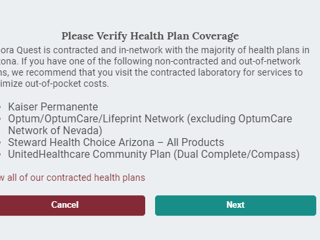 3. You will be prompted to verify health plan coverage. If you have one of the following non-contracted and out-of-network plans, we recommend that you visit the contracted laboratory for services to minimize out-of-pocket costs.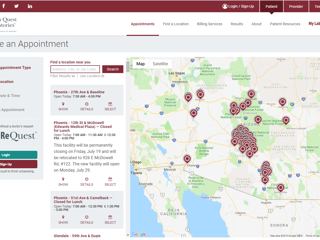 4. Select a location by choosing Use My Current
Location or search by address, city or zip code and
then click the Search button. A list of nearby locations will appear on the left side of the map. Click Select to choose the location.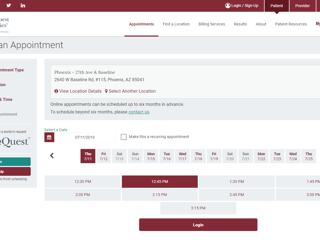 5. Select the date and time. Over two weeks of appointment dates for the selected location will be listed. If you need to check further out, simply change the date using the calendar in the search bar or click on WEEKLY VIEW.
If you prefer to see all available appointments for a
particular location at once, just click on
WEEKLY VIEW and a weekly calendar will appear.
You can use the arrows to move back and forth
between weeks. Once you have found the date and
time that works best for you, just click on it and then
click Next.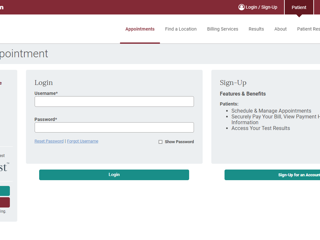 6. If you are not already logged in to your account,
you will be prompted to login or sign-up for an
account. Your requested appointment information
will carry forward after logging in.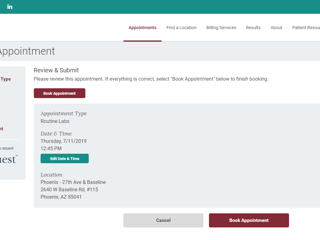 7. Review the information on the Selected Appointment screen, click on Book Appointment and you're done!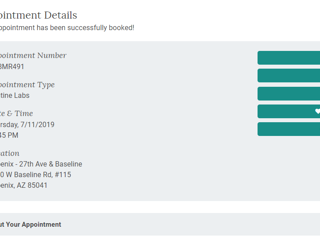 8. Once you click Book Appointment, you will see a
confirmation screen with options to get driving
directions, add the appointment to your calendar,
schedule a text message reminder, or set a location as
your favorite to save time when you schedule future
appointments.

You will also receive an e-mail confirmation of your
appointment, as well as a reminder e-mail the day
prior to your appointment. Both of these e-mails will
provide you with helpful information to prepare you
for your visit.