GET EASY, ONLINE ACCESS TO LAB RESULTS YOU CAN UNDERSTAND.
FOLLOW THESE SIMPLE STEPS TO GET ENROLLED:

If you are visiting our website to get your lab results for the first time, please note that you will be asked to go through a brief, one-time identification verification. This secure process is facilitated by a third-party and is required so that we can ensure that only you have access to your protected health information.

To enroll:
1. Go to SonoraQuest.com/account
2. Fill out all of the information requested to sign up and create an account.
3. You'll receive an email when your results are ready to view.
---

RESULTS YOU CAN UNDERSTAND
Sonora Quest now offers a more enhanced way for you to access and understand you lab test results. The new dashboard allows you to see your results separated into health categories that help you understand the areas of the body your testing relates to.
Clicking on the categories takes you to trends pages that allow you to view and monitor your results over a period of time.
Finally, educational content is now available to provide general information on the testing you've had completed. Please consult your healthcare provider or a medical professional
for any medical advice.
---
VALUE TO OUR PATIENTS
Easy access to your results from anywhere on any device
All of your Sonora Quest lab results in one place going back several years
A simple view that enables you to make sense of your lab results
Quick access to your original PDF results from the dashboard
Parents/guardians can request access to results for minor children under the age of eighteen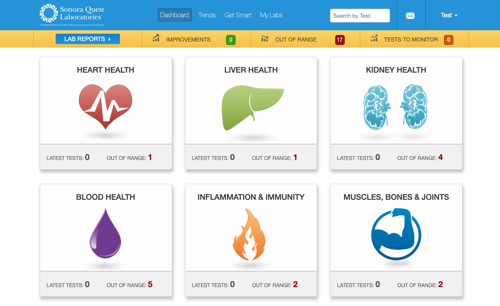 My Lab ReQuestTM
Order Tests without a doctor's order.
Pay at Time of Service
Pay a discounted rate for many laboratory services when paying at the time of service.