According to the National Institute on Drug Abuse, the most commonly abused prescription drugs are:1
Opioids


Central nervous system (CNS) depressants


Stimulants
The appropriate use of prescribed pain medication can relieve suffering, support normal daily functioning, reduce stress and improve sleep. But, when abused, these therapies can be as addictive and dangerous as illegal drugs – and their misuse is on the rise, along with related emergency room admissions.
---

Prescription drug misuse is the new epidemic

The numbers are a staggering wake-up call.  With more than 12 million people reporting that they use prescription drugs for "non-medical reasons," it's clear that the war on drugs has a new and disturbing front. Being educated on the size of this growing problem and its implications is important. There are things you need to know to help safeguard your practice.
---

The household medicine cabinet is the primary source of misuse

Nearly three out of four people who misuse prescription pain medications are taking drugs that were prescribed for someone else.2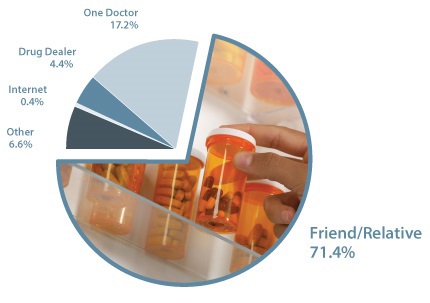 ---

← Prescription Drug Monitoring Home Page

1. NIDA, March 2008 A Research Update from the National Institute on Drug Abuse http://www.nida.nih.gov/tib/prescription.html
2. SAMHSA. Results from the 2010 National Survey on Drug Use and Health: Summary of National Findings. NSDUH Series H-41, HHS Publication No. (SMA) 11-4658. Rockville, MD: Substance Abuse and Mental Health Services Administration, 2011.
Learn About Lab Tests
Get information about various types of laboratory tests for free, courtesy of Lab Tests Online.
Browse information by: